On the 5th of October, Lund University hosted the 12th PlantLink Day! And it was a grand one! Despite the decision to hold a physical event only, "Biodiversity: the key to resilient agri-food systems" as the main theme attracted a record number of participants. More than 160 people signed up and filled the Blå Hallen and parts of Röda Rummet in the Ecology building. The atmosphere was vibrant!   
The aim of the event was to present a complex view of the agricultural production chain, highlighting biodiversity as one of the major elements to consider. Covering aspects of genetic and soil resources, agroecology, biotechnology, and global societal and economic implications. The program started with PlantLink's introduction by Erik Alexandersson, followed by NordPlant news and flash news by Kostas Karantininis. Five speeches and one interview made up the main part of the agenda, concluded by a panel discussion. What did our invited experts talk about? Check out their presentations and read their takeaways below!
Agnès Bernis-Fonteneau (Sapienza University, Rome Italy) – Agrobiodiversity key for pro-poor development and ecosystem services
Intraspecific agrobiodiversity, all sectors included, is key for the provision of ecosystem services and not only provisioning ecosystem services.
Small-scale farmers all around the world are both beneficiaries and custodians of this agrobiodiversity.
In situ on-farm conservation of genetic resources is essential and complementary to ex-situ conservation.
Building the evidence: we need to collect more data linking agrobiodiversity to socio-economic and ecological factors to understand better its distribution and the role it could play in productivity, resilience, and improved livelihoods.
Maj Rundlöf (Lund University) – Agroecology for biodiversity conservation and agricultural production
There is a need for both land sparing AND land sharing for achieving both biodiversity conservation and agricultural production.
Mohammad Bahram (SLU) – Unearthing the soil microbiome towards sustainable use of soil resources
Soil microbes control soil carbon and plant health and growth; however, we have not been able to leverage microbes efficiently. A better understanding of the evolution and ecology of soil and root microbes in a changing environment towards improved plant health and production as well as soil carbon storage. In addition, a holistic view of ecosystems by integrating microbes may help towards more efficient management plans.
Lise Lykke Steffensen (NordGen) – What can a genetic resource centre do for a biodiverse food chain? – interview moderated by Erik Alexandersson
Genebanks are absolutely crucial for food security as they provide the biological infrastructure which researchers and plant breeders need to feed the world.
The research conducted in genebanks unveil the hidden traits of seeds – traits that can manifest in plants with higher yield, better disease resistance and increased nutritional values. These plants are a treasure and a prerequisite for human life on earth.
The role of genebanks has maybe never been more important than today as the need for resilient agricultural and food systems is more important than ever. We need to adapt our food systems to both challenges and opportunities connected to climate change. The first step is to understand that genetic resources contain answers to many of our most pressing issues. The next is to allocate the resources needed to put them into use.
Michael Palmgren (University of Copenhagen) – From genes to new crops – abstract:
A second wave of the green revolution is underway that focuses on environmental sustainability, low input, and increased nutritional value. Of the more than 300,000 plant species that exist, less than 200 are commercially important, and three species – rice, wheat, and maize – account for the major part of the plant-derived nutrients that humans consume. The domestication of new crops would promote agricultural diversity and could provide a solution to many of the problems associated with intensive agriculture. Sustainable agriculture in the future will depend on crops that are tolerant to biotic and abiotic stresses, require minimal input of water and nutrients and can be cultivated with a minimal carbon footprint. Wild plants that fulfil these requirements abound in nature but are typically low-yielding. Quinoa is such a tolerant crop but is in need of substantial improvement in agricultural traits. Perennial grain crops like intermediate wheatgrass (Kernza) could also make a valuable addition to sustainable agriculture, potentially even as an alternative to their annual counterparts. The ability of perennials to grow year after year significantly reduces the number of agricultural inputs required in terms of both planting and weed control, while reduced tillage improves soil health and on-farm biodiversity. However, the yields of wheatgrass would need to increase substantially in order to become a realistic alternative to wheat.
Susanne Arvidsson (Lund University) – Integrating biodiversity consideration into the financial system
Nature-related considerations are only to a limited extent integrated in today's decision-making in industry and the financial system. This integration is vital to halt and reverse biodiversity loss!
One pathway is to assign values to nature in order to incentivise nature-friendly behaviour and decision-making.

Roland von Bothmer (SLU Alnarp) chaired a panel discussion that excellently concluded the entire event. What are his main insights from the PlantLink Day?
PlantLink Day showed the complexity and ambiguity of the concept of biodiversity and the necessity of uniting various research areas in common efforts. The seminar covered areas from the complex world of soil microbia – a world of its own – over ecosystem services of pollinating insects to plant breeding, use and conservation of genetic resources and small vs large scale farming systems.
How is it possible to combine all these different scientific areas for the resilient development of a well-functioning agroecosystem for feeding the future global human population? Scientific results must be translated into practical, economic, societal and political systems – is that possible? One answer given during the symposium is that we need one if not more, new Green Revolutions where different disciplines make joint efforts to influence agronomic development for the benefit of mankind. For me, it is obvious that PlantLink is one of these organisations which can play an important role where different research areas can meet. This leads to fruitful discussions and results in new paradigmatic views and vital scientific development benefitting us all.
Once again, we would like to thank all the participants for making this event memorable! Our minds are already racing with ideas about how to exceed 2023's success and what will be on the agenda next year. See you all there!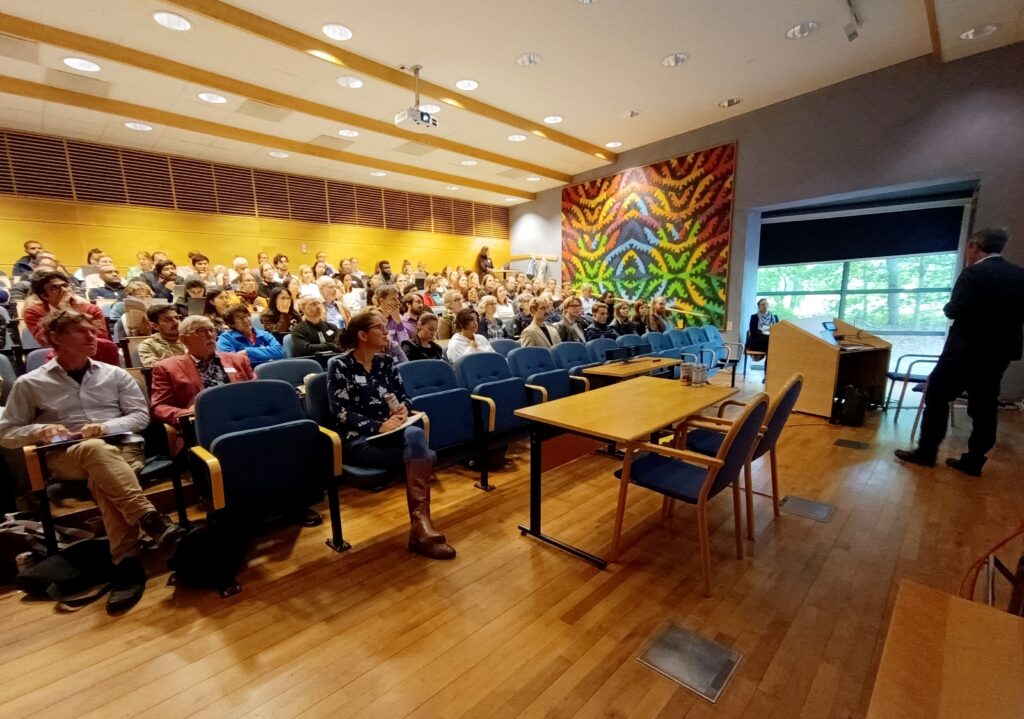 Written by: Anna Maňourová, Roland von Bothmer