Mahbubjon Rahmatov is a researcher at the Department of Plant Breeding, SLU Alnarp. Mahbub's research focuses on enhancing cereals' resistance to both abiotic and biotic stresses. How can crop wild relatives improve the sustainability and resilience of our food system? Read the interview below!
What is currently on top of your research agenda?
Improving global food and nutrition security requires genetic variation. My research in the Plant Breeding Department at SLU focuses on improving cereal crops, such as wheat, sorghum, and pearl millet, to withstand biotic and abiotic stresses. The wild relatives of crops provide an untapped source of genetic diversity suitable for use in plant breeding and genetic improvement to increase the sustainability and resilience of the food system. Therefore, my research agenda focuses on utilizing crop wild relatives (CWRs) for crop improvement. The use of desirable traits from CWRs enables plant breeders to develop crops that are more resilient to biotic and abiotic stress and climate change while improving their nutritional value and yield.
Tell us about your latest publication.
Our recently published paper describes the gene encoding stripe rust resistance (YrSLU) in the rye genome that has been introgressed into wheat. It has been published in the Journal of Plant Disease: Identification of a Small Translocation from 6R Possessing Stripe Rust Resistance to Wheat | Plant Disease (apsnet.org). Stripe rust in wheat is one of the most devastating diseases globally, causing significant yield losses and economic damage to farmers and food systems. Therefore, utilizing host-resistant germplasm is the most efficient and environmentally friendly method of controlling stripe rust in wheat. The YrSLU resistance gene provides an additional asset for wheat improvement to mitigate yield losses caused by this disease.
What led you to your particular field of research?
My upbringing amid apricot trees in the city of Isfara, Northern Tajikistan, sparked my early interest in plant science. As a child, I often observed and helped plant scientists at the experimental station near my home, which further intensified my passion for the field. My passion for plant science and commitment to improving global food and nutrition security led me to pursue research in plant breeding and international agriculture. Throughout my research and work, I am actively working toward this objective, striving to contribute to developing sustainable agricultural practices and improving crop productivity. Sustainable food production faces stiff challenges (biotic and abiotic stresses and climate change), and therefore innovative plant breeding practices are the key solution to ensuring a sustainable food supply. Given the pressing issues of biotic and abiotic stresses, climate change, and rapid population growth, plant breeding researchers must play an active role in advancing sustainable food production. As a researcher in this field, I am committed to improving nutrition and food security for burgeoning global citizens.
What are the implications of your research for society?
As Norman Borlaug noted, "Food is the moral right of all who are born into this world". This is why all plant scientists are constantly working to improve crops to provide people with healthy and nutritious food, promoting well-being and maintaining an active lifestyle for everyone.
My research efforts have so far identified two resistance genes for two devastating wheat diseases, stem rust and stripe rust. Both genes are broad-spectrum resistant and may provide an additional genetic resource for developing cultivars resistant to stripe rust (YrSLU) and stem rust (Sr59). Using these genes in wheat cultivar development can potentially reduce fungicide applications, leading to more sustainable and environmentally friendly agricultural practices. Growing wheat cultivars with YrSLU and Sr59 resistance genes has the potential to save farmers money by reducing the need for fungicide applications. Importantly, it can also contribute to reducing the potential harm to society and the environment associated with fungicide use. Ultimately, incorporating these resistance genes into wheat cultivars can result in sustainable and environmentally friendly crop management practices, contributing to the sustainable production of healthy and safe foods for society. I hope my research on exploiting desired traits in CWRs could contribute to crop improvement toward sustainable and resilient agriculture.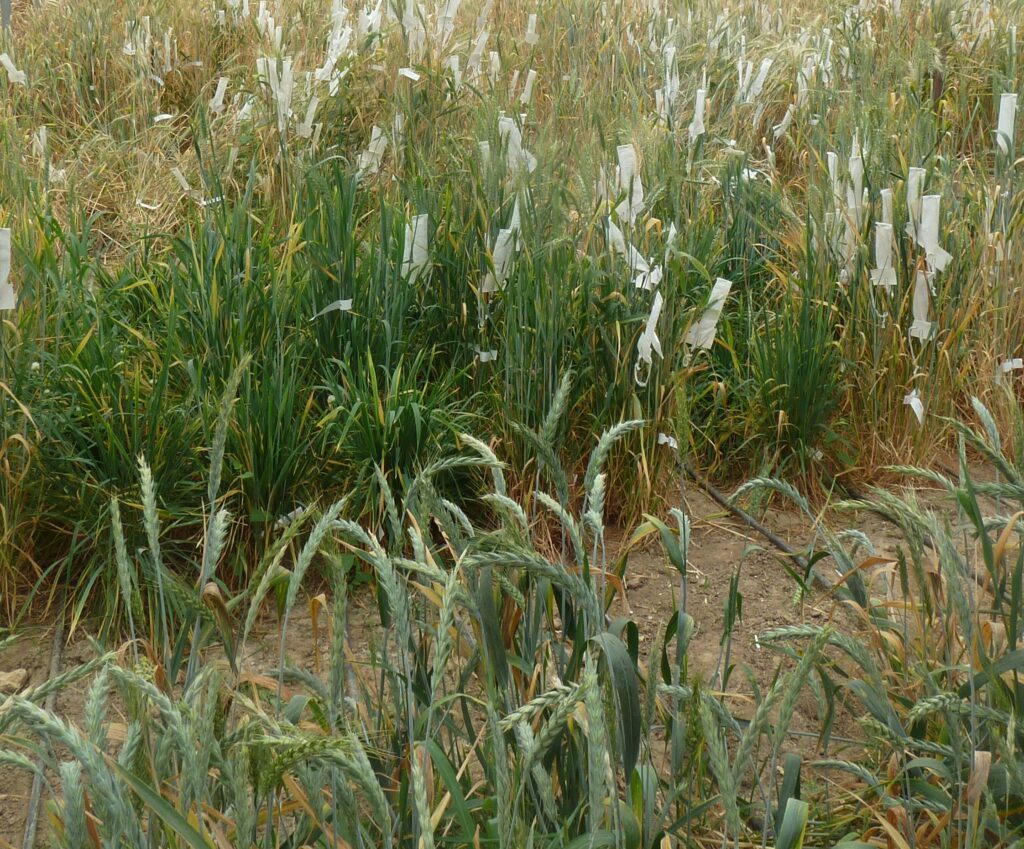 Finally, let´s say you have unlimited research funds; where would your research be five years from now?
Having unlimited funding for plant breeding would be a valuable opportunity that could significantly advance scientific discoveries and innovations, ultimately benefiting both farmers and society. If I had unlimited research funding for the next five years, my top priority would be to restore and utilize neglected and forgotten traits present in CWRs, landraces, and ancient genetic resources (spelt, emmer, and einkorn) through field-based research and state-of-the-art of cutting-edge technologies. Conducting comprehensive field-based research in multiple environments is essential for the successful improvement of crops, enabling the identification of genetic traits that are more resilient to different environmental stressors. With unlimited funding, I would conduct more extensive and rigorous field trials, testing multiple crop varieties to determine the best-performing cultivars in different agroecological zones. This would lead to the development of more resilient, higher-yielding, and nutritious crops, contributing to global food security, sustainable agriculture, and a healthier planet.
Thank you for a very interesting interview, Mahbub! We wish you the best of luck and success in your future paths!

(Photo: Tilal Abdelhalim)