We are so happy to have celebrated our 10-year aniversary at Kulturen i Lund and online with many of you!
We were restricted to 50 onsite participants, most of who can be seen on the picture above, but added to that we had over 80 unique online participants! The theme for the day was "a look at the past 10 years, and into the future" with very interesting and inspiring talks. PlantLink director Erik Alexandersson kicked of the day with a short summary of the 10 first years with PlantLink, part of it can be read about in our 10-year evaluation. Estelle Proux-Wéra, former PlantLink bioinformatician, then gave a summary of major bioinformatic advances of the last decade. Some of the topics she highlighted was Sequencing data growth, Single-cell sequencing, Machine learning, and FAIR data. Looking at the past also means revisiting some of the excellent research done, and to represent that three researchers, Christer Löfstedt, Ida Lager and Paul Becher, presented projects that had been initiated by PlantLink's seed money grants.  Then Alf Ceplitis from Lantmännen gave an industrial perspective on the last decade, highlighting a change in "the vibe" from 2011 to 2021. He pointed out that many of the breeding targets may be the same, but the methods have changed. He further highlighted positive changes, that plant breeding now is much higher on the political agenda, and that closer collaborations between academia and industry have been achieved.
For the "into the future section" we had selected three quite different topics, that we in PlantLink foresee will be important future research areas. Our first keynote speaker, Corné Pieterse, presented his group's latest research related to plant microbiome, and how to do plant-breeding for microbiome-optimized crops. Julia Jansing then talked about gene editing of plants for biomanufacturing, focusing on glyco-engineering and other ways to optimize the host plant to improve in planta production of different proteins. Last, but not least, Tiziana Ulian joined us on link from KEW gardens and spoke of the importance of genetic resources for future needs.
As the last session we had a panel discussion with our three keynote speakers lead by Plantlink's coordinator Sofia Marmon. Topics discussed were mainly challenges and goals within plant science for the next decade. Some things that were highlighted as important for successful research the coming decade was need of resources (with less time spent applying for them…!), the importance of collaborations and wished for changes in EU regulations regarding modern gene editing techniques. Picture below, from the left Sofia Marmon, Tiziana Ulian (on link), Julia Jansing and Corné Pieterse.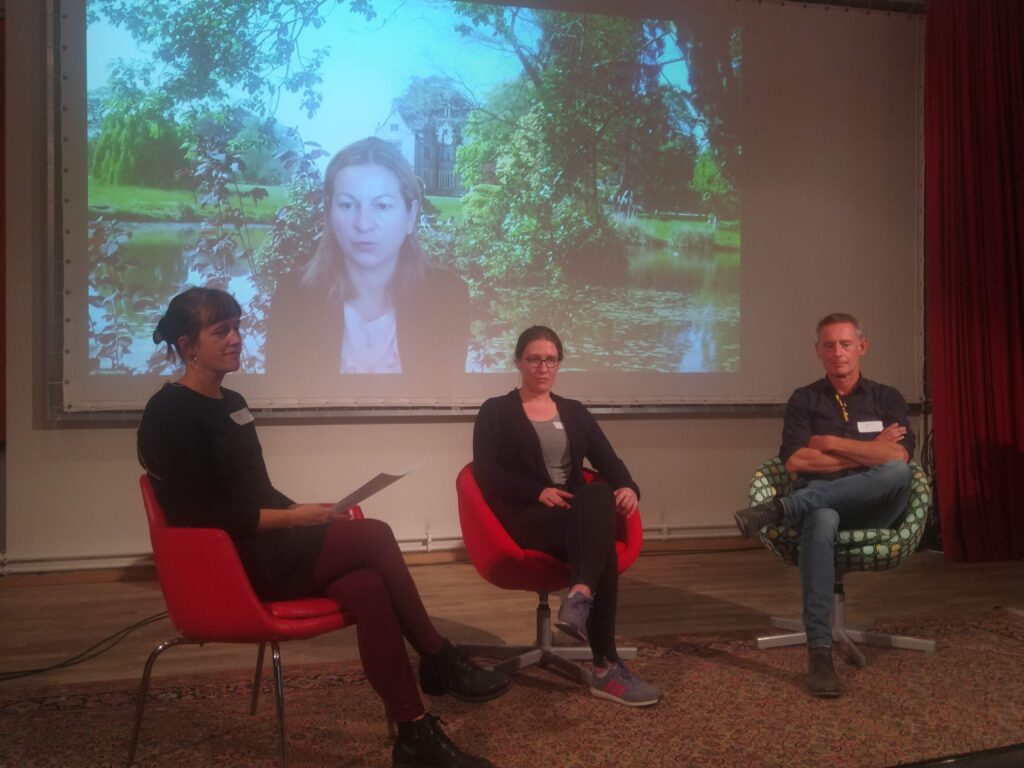 We also discussed the importance of research networks such as PlantLink during the day. The researchers presenting results from seed money grants all stressed the importance of PlantLink for the start of their projects, and the panel discussion also pointed out the need for both local and larger networks to increase research collaboration. The participants were asked to give their opinion to "What should a future plant research network focus on?" The summary of this can be seen below.
A great thanks to all our presenters and participants for joining us on PlantLink's 10-year anniversary!