Almost 200 persons joined the event "Job Perspectives in Applied Plant Sciences" organized by PlantLink together with the ERASMUS+ program ESCAPAdE. Due to the COVID-19 pandemic and ongoing restrictions, the event was held as a hybrid meeting in Alnarp and online, and everyone had the possibility to get in contact with the other participants through our event app (organized by GRIP). The student interest was very large, with students registering from many parts of Europe, and even some beyond that. Students from no less than 11 European countries joined us on site in Alnarp. Two situations from the event, students in audience, and discussions between participants are pictured above, courtesy of Mathilde Cathelain.
The program went from lunch to noon the next day and started with an inspirational story by Anna Eriksson, and how her love for Italy motivated her to seek new challenges outside of Sweden, leading to a home and a career in science communication in Italy.  Later in the afternoon there were parallel sessions. In the main hall one of the most well attended and appreciated talks of the JobFair was held, "How to get that interview – CV and the establishment of the first contact". Speakers Olga Leuner and Petra Chaloupková from ESCAPAdE partner Czech University of Life Sciences Prague, spoke of CVs and e-mail communication, and received many questions on how to proceed with job hunting.
The day continued with a very inspiring and informative presentation regarding "Start-ups patents and innovation", with Emma Nordell from LU Innovation/SLU Holding. Presentations slides from this and some other presentations can be found at this homepage post.
During the event two discussions were held in the main hall, first a panel discussion  lead by PlantLink's director Erik Alexandersson, talking about "our ways to our current jobs". As can be seen in the picture below, this discussion was indeed a hybrid one, with Scott Edmunds (GigaScience) and Anna Holefors (In vitro Plant-tech) on link, and (from left) Ali Malik (Nelson seed development), Helena Jauhiainen (Splendor Plant) and Lena Ansebo (Fredriksdal museum) on site.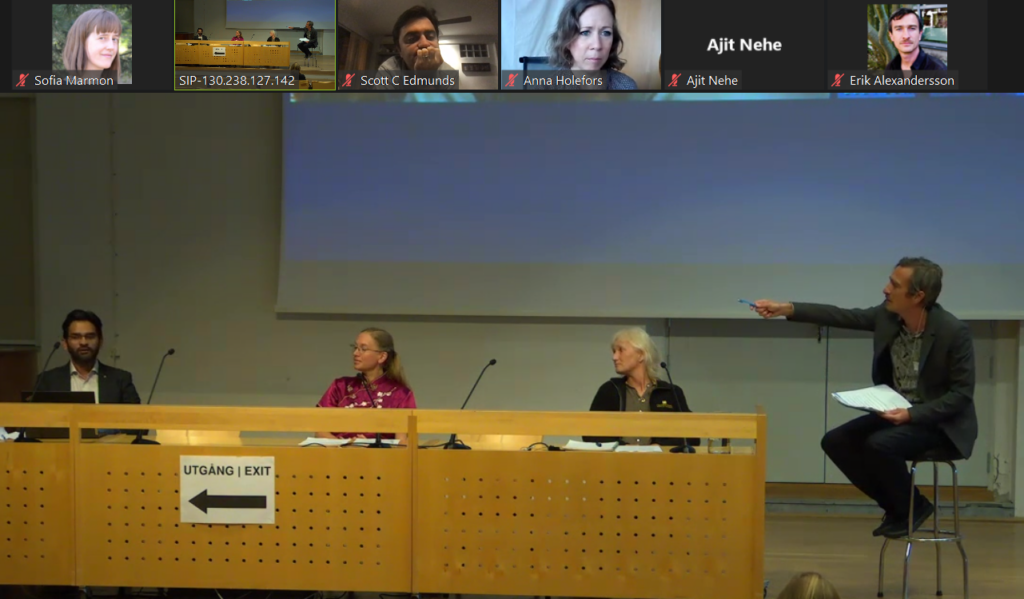 The second day another discussion, but from the perspective of recruiters was held, moderated by Susanne Linné at LU career. The parallel session of day one were all round table discussions (also in hybrid format) on topics such as "ERASMUS mobility as a professional competence?" and "Bridge between academia, research and industry". The three ESCAPAdE round table discussions all reportedly resulted in very interesting talks.
The main focus of this event was the job market for plant scientists outside of academia, but we also had a session called "how about a PhD?", for MSc students interested in either an academic career, or a PhD as a step towards an industrial job. In parallel, Pernilla Carlsson at LU held a very well received session for PhD students and postdocs regarding transferable skills. She gave hands on advice on how to evaluate your skills, strengths and motivations, and how to use that when planning your future career. Then in the final session we focused on job opportunities outside both academia and industry, hearing the personal stories from Nanna Karkov (Danish Agricultural agency) and Amrit Nanda (Plant ETP), and discussing how the career possibilities and working situation may differ compared to working within a company.
The event has to our pleasure received very fine evaluations from the participants, both regarding the overall program, the online technical quality and the on site safety. 
We once again thank our sponsors, SPPS and the LTV faculty at SLU for their help funding this event. We also once more thank all our speakers and company representatives, and the ESCAPAdE representatives for a fruitful collaboration.
Note. Not all presenters or program points are mentioned in this summary. A full program is found at this homepage post.